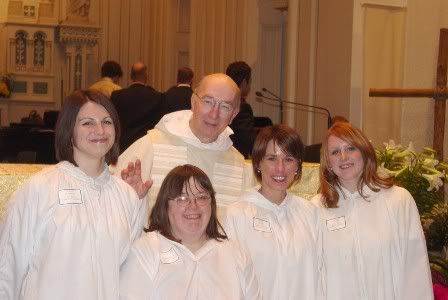 Hello to all my friends. All is well with me, and I hope and pray that all is well with you. I have been away from here for far too long, and an update is long past due!!!!
My time in the past few weeks has been divided between my journey of faith and issues with my Mother. As many of you know, I have been in the process of becoming Catholic. I am thrilled to say that I received the Sacraments of Confirmation and was accepted in to full communion by the Roman Catholic Church during Easter Vigil! I cannot begin to describe what this was like. The joy in my heart is purely indescribable. Never before in my life have I embraced the experiences and traditions of Holy Week as I did this year.
On the Saturday before Palm Sunday, I made my first "Confession". This is something that I thought I would dread... and while I was nervous, and anxious, it was a powerful experience, and I couldn't believe that when it was over, that I didn't really want to leave! The next day was Palm Sunday. Russell was camping with his troop, and they go to Mass on Saturday afternoons. So I went with my Mother Inlaw. The Passion was read, and it was incredibly moving.
On Tuesday, we drove down to the Saint Peter In Chains Cathedral in Cincinnati to attend the Chrism Mass, where Archbishop Daniel Pilarczyk blessed the sacred oils. The Mass of Chrism is celebrated once a year. It is always celebrated at the cathedral and is one of the most solemn and significant liturgies of our church. During the Mass, the bishop blesses the oil of catechumens, the oil of the sick, and the oil of chrism. The first is used for for adult catechumens and infants, the second for anointing the sick, and the sacred oil of chrism for baptism, confirmation, the ordination of priests, and the consecration of altars. All three are basically an olive oil; chrism spices the air with the scent of a perfume, traditionally balsam. The music was sung by the Athenaeum Chorale and was spectacular! This was definitely worth driving through torrential downpours through rush hour traffic. I am hoping to be able to go again next year.
The next day was spent dealing with our flooded basement. We got about 4 inches of rain in less than 24 hours. It was a mess, but suffered from no major damage. Our backs ached, but it was kind of a good experience. From listening to the news, it was clear that we got off easy. We only had water in our basement, and not sewage. Russell and I worked well together... there was no bickering... and we actually managed to laugh and joke around a bit.
Russell and I attended the Mass of The Lord's Supper on Holy Thursday. I attended the service on Good Friday and then we attended a prayer service on Saturday Morning, followed by a rehearsal. And then, the big moment came.... Easter Vigil!
It began at 9 pm. I was very grateful to have dear friends and family there to celebrate this moment with me. It was long, but truly amazing. A night that I will never forget. And at the end, I was officially Catholic! Words can't describe what it was to receive Communion for the first time!! And the scent of the oil stayed with me all through the night. I'd wake up and smell it, and would smile and fade back to sleep!